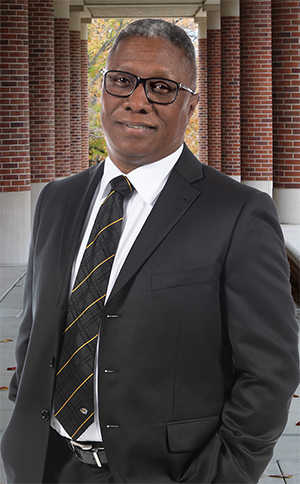 S. David Mitchell, JD, PhD, Associate Dean for Academic Affairs and Ruth L. Hulston Professor of Law at the MU School of Law; affiliate member of Mizzou's College of Arts and Science Departments of Black Studies and Sociology. 
Dr. Mitchell is an interdisciplinary scholar who looks at the criminal justice system using a sociological lens. He has focused on the impact of collateral consequences of sentencing on formerly incarcerated individuals and their communities, the process of reentry and reintegration of individuals formerly incarcerated, zero tolerance policies, and the retroactive application of laws. He earned his JD and PhD in Sociology from the University of Pennsylvania. He is a member of the American Law Institute, an American Bar Foundation Fellow, and a member of the Missouri State Advisory Committee to the U.S. Commission on Civil Rights, serving as Chair in 2016-17. He has been recognized for his teaching and community engagement – Gold Chalk Award (2009); Legion of Black Collegians Minority Faculty and Staff Appreciation Award (2011); 2014-2015 Lloyd L. Gaines Scholarship Banquet Honoree; and the MU President's Community Engagement Award (2015), and has served on numerous academic panels, and been interviewed and quoted in a variety of news outlets. 
Stephanie Shonekan, PhD, Associate Dean for Graduate Studies, Faculty Development, and Inclusive Culture at the College of Arts and Science; Professor, School of Music. 
A faculty member at MU from 2011-2018 and former chair of the Department of Black Studies, Dr. Shonekan served for the past two years as the chair of the W.E.B. Du Bois Department of Afro-American Studies at the University of Massachusetts, Amherst. A prolific ethnomusicologist, she is the author of Black Resistance in the Americas: Slavery and Its Aftermath (2018), Black Lives Matter and Music (2018), and Soul, Country and the USA: Race and Identity in American Music Culture (2015).  She is also co-founder of the national "Race and the American Story" project, dedicated to "cultivating conversation, fostering understanding, broadening knowledge, and building community among people of different backgrounds and walks of life in the U.S." Dr. Shonekan is the recipient of various awards including the Commitment to Diversity Faculty award at the University of Massachusetts; and the Marian O'Fallon Oldham Distinguished Educator Award, the Excellence in Education Award, the Black Girls Rock Award, and was a Teaching Excellence Finalist at the University of Missouri.