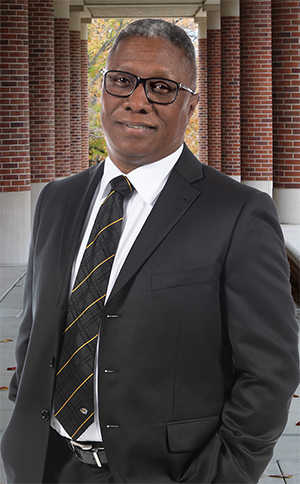 S. David Mitchell, JD, PhD, Ruth L. Hulston Professor of Law at the MU School of Law; affiliate member of Mizzou's College of Arts and Science Departments of Black Studies and Sociology. 
Dr. Mitchell is an interdisciplinary scholar who looks at the criminal justice system using a sociological lens. He has focused on the impact of collateral consequences of sentencing on formerly incarcerated individuals and their communities, the process of reentry and reintegration of individuals formerly incarcerated, zero tolerance policies, and the retroactive application of laws. He earned his JD and PhD in Sociology from the University of Pennsylvania. He is a member of the American Law Institute, an American Bar Foundation Fellow, and a member of the Missouri State Advisory Committee to the U.S. Commission on Civil Rights, serving as Chair in 2016-17. He has been recognized for his teaching and community engagement – Gold Chalk Award (2009); Legion of Black Collegians Minority Faculty and Staff Appreciation Award (2011); 2014-2015 Lloyd L. Gaines Scholarship Banquet Honoree; and the MU President's Community Engagement Award (2015), and has served on numerous academic panels, and been interviewed and quoted in a variety of news outlets. 
Srirupa Prasad, Associate Professor in the Department of Women's and Gender Studies and Director of South Asian Studies
Srirupa Prasad is an Associate Professor in the Department of Women's and Gender Studies and the Director of the South Asian Studies Program at MU. Her research interests include interdisciplinary perspectives on disease, medicine, and health; colonialism, race, and gender; globalization and India; feminist theory and methods; food studies; affect theory; and theories of the body. More broadly, her research and teaching span the histories of racism, gender, colonialism, and nationalism, in particular their cross-national entanglements.
Her first book, Cultural Politics of Hygiene in India, 1890-1940: Contagions of Feelings, investigates genealogies of contagion in colonial India and highlights the dynamic and contested passages between contagion as a microbe and contagion as an affect. She is currently working on her second book, Susceptibilities: A Global History of Tuberculosis. She has also published articles in the Journal of Historical Sociology, Cultural Geographies, Feminist Teacher, Journal of Women's History, among others and received several grants and fellowships for her research. She received the University of Missouri Diversity Faculty Achievement Award in 2014.